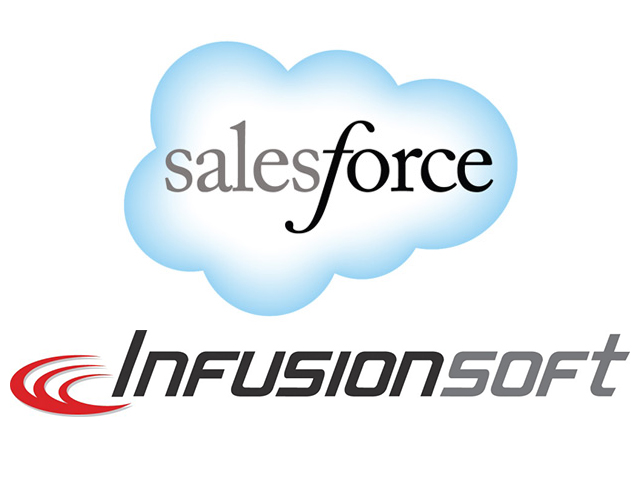 Salesforce vs. Infusionsoft
Over my 27 years in business I have studied and implemented many CRM systems, and systems to automate businesses. The key issues for many businesses in deploying a system is - which one?
With software companies pushing the latest features and benefits their solutions, it can be very daunting process, cost of solution, implementation, and training.
So I have put together this post to outline the differences between Infusionsoft and Salesforce
If you're reading this then you are probably about to make a commitment to Infusionsoft or Salesforce.
I get a lot of potential buyers of Infusionsoft and Salesforce asking about the differences between the two.
I use Infusionsoft everyday, and used Salesforce long enough to realise it didn't meet my needs, I've been where you're at. I've put in the time to get to know both platforms.
I have implemented both with varying results with both, that the variance between users is based purely on the understanding of their choice and how people are using it on a day-to-day basis. Many companies still run GIGO processes. They continue to input Garbage In to their CRM systems and still have the same output - Garbage Out. The adoption of any software to automate your business is to understand the implementation, ensure staff are trained, and that GIGO processes don't happen.
One the of the Globes biggest and arguably the best CRM system is Salesforce. The size of Salesforce engulfs Infusionsoft by users, company turnover, and financial might. Salesforce has a turnover of $5 Billion, whereas Infusionsoft has a t/o of $100 million. But size isn't everything.
Software starts out as a solution to a business problem, this then, more than any other factor, dictates the future of the software as more users adopt the solution. So there is nothing like 'Perfect' software solutions.
You can find more about the history of Salesforce on this link and Infusionsoft here.
Salesforce is a giant, it is a solution for large companies with sales teams, comprised of Account Managers, Direct Sales People, Telesales, Sales Directors, and so forth. It is a big system and one that does work. Infusionsoft, on comparison, is more 'nimble', flexible, adaptable – but both are very different. People do make comparisons as though they are interchangeable – There a number of overlaps, but they are fundamentally different categories of software.
Having experienced both the implementation and use of both Infusionsoft and Salesforce – I do have a favourite. The automation of a business can lead to increased productivity, lead capture, lead nurture, lead conversion and a better understanding of customers needs and delivery of services or products. The automation of labour intensive, repetitive process can be implemented to a degree by Salesforce, but without question Infusionsoft was built to solve these problems.
Infusionsoft can make you money whilst you sleep, Salesforce can't. The power of Infusionsoft business automation makes this possible.   
If you would like to make sales all day and night, then can only be achieved by automating as much of the sales and marketing processes in your business.
Salesforce is the best CRM system you will ever find, it has great interoperability with plugins for other software, be it a Microsoft product or an Autoresponder. The app market place for Salesforce is unrivalled to Infusionsoft. As it was built to solve the problem of companies having a centralised database it is a far superior CRM than Infusionsoft.
Infusionsoft was built to solve the problem of automating repetitive tasks, then Infusionsoft far superior marketing platform than Salesforce.
Many Salesforce users are hampered by the most basic of tasks – emails. Salesforce is limited to the number of emails that can be sent out – 250 per day. In marketing literature Salesforce says it can be used to send mass mailing, but this is not the case and when you call the support team, they refer to your InfusionsoftP. Whereas Infusionsoft can send out thousands of emails.
Most businesses aim to achieve three main functions, Organisation, Marketing, and their People.
With so much data coming in from so many different sources, it needs to be organised. Be it in Sage ACT!, Goldmine, Excel spreasheets, MS Access, Filofaxes, Rolodex, and cards in boxes.
Today's data needs to be organised so that it can be accessed quickly, efficently, and with a purpose in mind – namely opportunities that are in the business. Inefficiency in managing this only leads to lost opportunities, and money!
The business data supplier – Dunn and Brad Street, conducted a survey on what made businesses successful and what made them fail. The answer 'Sales, Sales, and More Sales'!
Marketing is the heartbeat and soul of the business, every other activity is secondary. If you can automate as much as possible of the business then you can concentrate lead generation, capture and conversion. Infusionsoft will operate your marketing on autopilot, Salesforce will not do this.
Once you have optimised your automation, even your people will no longer have the responsibility of ensuring your emails go out to the client base. Infusionsoft can do this, Salesforce can't. Every aspect of your business that can be automated must be automated. Then to remain consistent in these actions.
Marketing automation frees up your people, time, efficiency, and it makes you more money.
So think on that as we go through the breakdown between Infusionsoft and Salesforce, and you decide for yourself which option does that better for you.
There is a huge learning curve with Infusionsoft, and returns on the implementation can be as little as three months.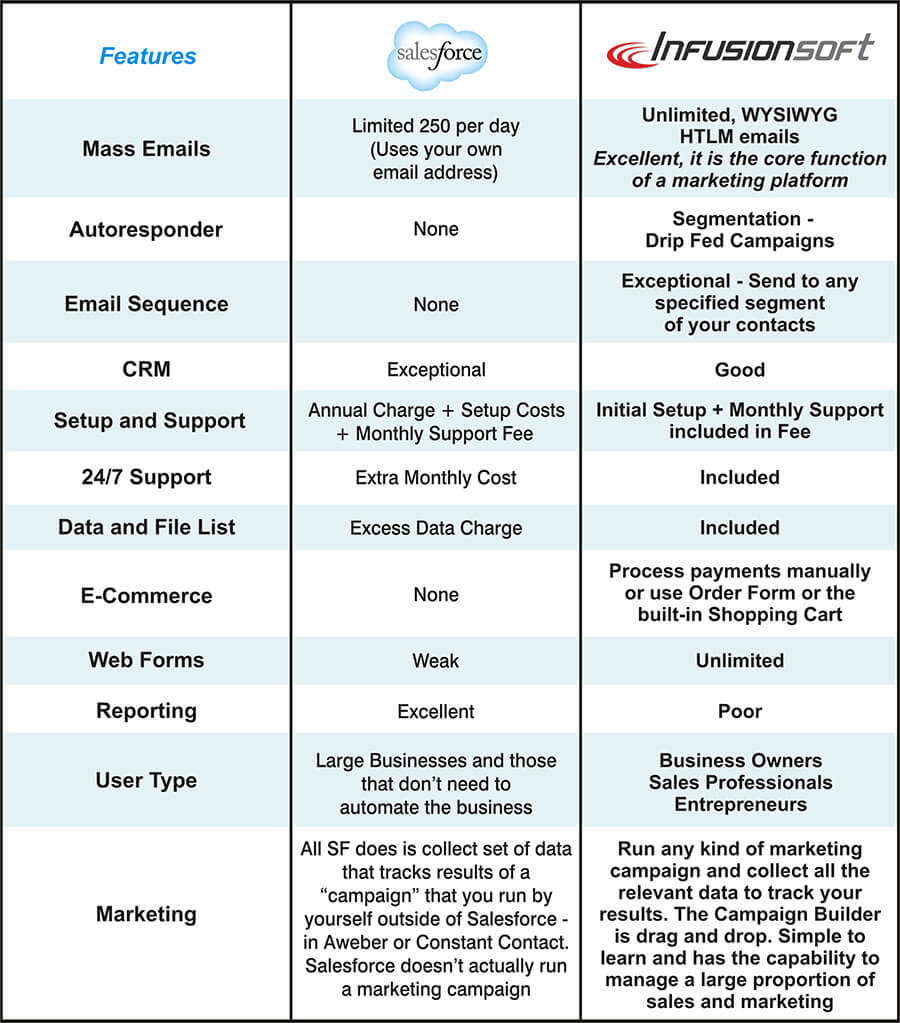 Differences: SalesForce and Infusionsoft at a Glance.
Choose Salesforce if…
Your company has a large salesforce and function. You are not limited by emails you are wanting to maintain where you're at by streamlining pre-existing internal processes, organising data and having at-a-glance access to that data. In most cases, only big businesses fit that category.
Choose Infusionsoft if…
Your company is looking to grow through automated sales and marketing by lead capturing, lead nurturing and converting new leads into long term business. Salesforce is a fancy digital filing cabinet, Infusionsoft is a tool with unlimited flexibility that allows you to be an effective business marketing machine. If you want any further information and some great case studies, and blue prints (Worth $400)- just
click the here